Monthly Archive for: 'January, 2017'
Dear Friends,
I hope this change in the lunar year finds you well. Keeping with the theme of my prior post, I'd like to bring up the change in cycle as an opportunity to review and take action/ inaction regarding the fruit available to act upon  when spring approaches in March and beyond. The Solar new year six weeks ago came with a very durable snow and for me one of the worst colds I have a had in many years and a lot of time for reflection . Although short, the cold was quite potent and caused my body to really kick into gear and heal. I feel in someway purified in many levels and ready for what happens next. Sort of  like what happens when I practice yoga- but way more intense and fast.
Many of my thoughts have been turning toward the energy moving in our culture and the sudden and stark reveal of how the vulnerable people are deeply affected by the change in political landscape. It is not lost on me the beauty and grace of an enhanced space such as Near East Yoga, becoming more of a refuge everyday, offering a safe place to develop stability and grace. I have a firm resolve to support and engender unity and community as an act of rebellion to what I see going on on the Federal stage. As it goes I have been aware of peoples need to grieve as they move toward resiliency and revolution. But also morph into resolve and strength. Yoga, if anything is a confirmation of a personal domaine for the purposes of revealing the divine through anything that comes up. Everyone is entitled to pursue this end as a function of their freedom and happiness. Let's work of for this as we explore our practice.
Under the effect of the lunar new year, now is a great time to recommit to the channelizing and stabilizing effort found in regular practice. I've been watching a new found strength erupt out of people, some affected by the storm, or the state of the population and the spark of late winter sun. There is a lot of joy floating about stemming from steady yoga practice and heart-lightening song-circles. In a way we offer each other a protection that comes from just being present and available- even in the silence of Mysore. You are not alone and there is very little to be said. This is called trust and is the root of who we maintain a sangha. Come be together, strong and clear through practice.
Look for these offerings over the next few weeks and months-
Yoga Sutra of Patanjali 4-5pm Tuesday February 7th
28 Days of Kirtan starts February 25th
Devis Lunch Puja returns for the 28 Days
Wednesdays March 1st, 15th, 22nd and 29th
See you all soon and often- Casey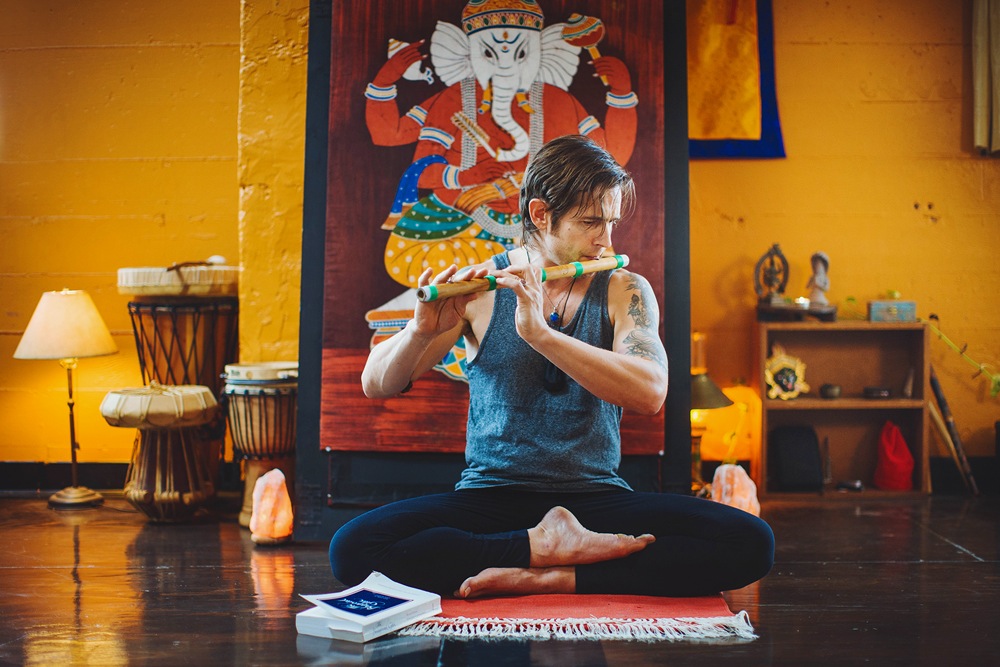 Hi There-
Happy New Year! The Holidays sort of just came and went. They were wonderful to behold and I was happy to see you all during these special times. I have been left with the overwhelming sensation that we have entered a new chapter of life with this turn of the earth, a beginning to a new age where we are going to utilize our potency and power of adaptability, for and along side each other.
Witnessing the state to where the world has arrived, I am even more grateful for community, the stories we share, the places we inhabit and the home we make together here in this great City of Portland. As these new ways of how we relate with our environment are revealed to us, as we shift and grow, I keep reminding myself that following the old ways certainly has it's merit. When properly blended with the widsdom of the times the root teachings of what we call yoga, offer space, clarity and vision that can be an antidote to what ails or an engine of transformation. May we all be the bearer of this result in the world.
The Near East Yoga sangha is a beautifully diverse group of mindful individuals, each a servant to others, Self and the Divine, who shares this self-effecting method for making better the organization of maya or the illusion of being. The community shares a trust which is a precious item to behold and is a principle component in how we express and enjoy liberty. The animation of a good life can come when we know not only who we are, but also how we are and where we are, in a world where to try is to succeed, if the method is there. Four walls don't make a yoga studio alone- the many different threads of lives and choices, successes and sufferings are what make the fabric with which we live and love. "Grist for the mill" as Ram Das has said is of a turn, the very prana we employ in the simplicity of breath and the base of all our actions.
We are friends with the lineage of being blessed with success, if we try- its what the Elder's wanted for us when they sought the truth and tried to map thier way, to then offer us. Patanjali wanted us to succeed, Pattabhi Jois, Dr. Jayashree, Kathy Cooper, our first teacher, the other yogi in the room, the Godhead- all are bent on helping us find the path and take it alone for the sake of all everywhere and the ultimate destination of Now.
As this year of 2017 gets rolling, look from where you have come, and the strength or even the stretch by which you came through and know you can and will stay upright this year. Look to the Sun, Moon and Earth to show you the passing of the high and low, move with them like a living vinyasa, keep your drishti both internal and external, breathe in the free air, be the seer, held in spontaneous awe of the magic found in the mundane. Release the unnecessary hooks that the illusion has over you and polish the ones that serve and support.
The future brings the Lunar New Year at the end of January and then Mahashivaratri in late February. Near East Yoga will continue to offer the support of Ashtanga Yoga, weekly philosophy discussions, special visiting teachers, music and chanting, with new opportunities to engage and explore the dharma-arts as a community. "Get Your Bhajan On VI" and the 2nd Annual "28 Days of Kirtan" complete with a 3 night retreat at the Oregon Coast  are pending in late winter. The weekly chant sessions continue in vigor and a special night version of the YSoP group will be starting on Tuesday's at 4pm. We are bringing back the Beneficial Sounds Gong Bath with Wayne Marto every month and have a few Tea and Meditation Ceremonies with Leora in the works. Combined with such a great group of supporting teachers Melissa, Martina, and Brady (including the great fill in teaching of Dena and Jordan) and the stewardship of Cameron, Near East Yoga is set to be a home for many wonderful experiences for our community.
Thanks for making Near East Yoga the hub of your asana practice, even your day or your life (like me). It would never be as it is with our your presence. Thanks for showing up and improving what would otherwise be just a room.
Blessings in the New Year and Always- Casey